About BOSSII
BOSSII is an exclusively South East Queensland full-service Point of Sale company that is aimed at best-in-class Hospitality venues that require more than just a traditional POS product.  If you are looking to partner with exceptional Hospitality professionals that give the best local service and offer the most local experience of any other POS partner company, then a simple phone call is all that's required to partner with a local expert.
Offering Cloud POS options along with our hardware partner company we bring into play everything from your internet connection, your eftpos options, your POS hardware required through to countless integrations to quality software programs such as NowBookIt
BOSSII is big enough to have seen it all, but small enough to give that personal level of service that other national companies just cannot offer.
Why you need BOSSII & Now Book It
One of the main areas of concern in the past has been inputting Reservations, Ticketing and Gift Vouchers into a venues POS software system with as little effort as possible, whilst being as accurate as possible.  Now Book It have entirely fixed these issues. 
The partnership integration that Now Book It and BOSSII have created allows for seamless automated 2-way communication between both systems for all of your Reservations, Reservations with prepaid deposits, Gift Vouchers and Ticketed Events allowing them all to pre-populate into your POS software. 
Reservations
Reservations can be seen in both your Now Book It portal and your BOSSII POS portal meaning a seamless and simple way of managing your client reservation requests in either system. 
You can choose to import all Reservations, Reservations with no Deposits or only Reservations with Prepaid Deposits, the choice is yours entirely. 
From your POS you are able to start a reservation and follow the spend all the way to the end of the transaction. 
All client data is then added to your POS software allowing you to build your CRM database for future contact and/or future customer analysis.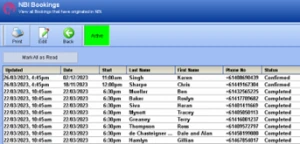 Gift Vouchers
Utilizing integration between Now Book It & BOSSII allows for the sale of Gift Vouchers sold in Now Book It online via your website to be immediately uploaded to BOSSII Point of Sale allowing those same Gift Vouchers to be redeemed. 
Finalizing a transaction with an Now Book It online Voucher is as simple as entering Now Book It Voucher number allowing the transaction to be paid down to the value requested.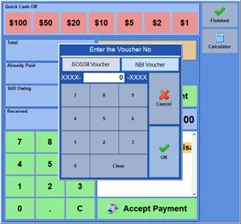 Ticketed Events
Ticketing for events such as Mothers Day, Melbourne Cup or other major events that you may have are a breeze. Define your ticket parameters in Now Book It and allow the sold upload of tickets to instantly enter BOSSII allowing you to start every prepaid or post-paid ticket customer within the POS on the day and with any pre-paid value taken into account.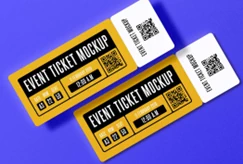 A combination of BOSSII POS and Now Book It is an investment in allowing you to run your business in a much more effective, professional, modern and cost efficient manner than your competitors. You won't regret it, guaranteed!